Product Review :Beauty Book Smoky Look by Elf Studio
10:07 PTG
Bismillah
Assalamua'laikum wbt
Happy new year to all people around the world. I think I'm not too late for wishing you a Happy New year 2015.
I know everybody have their good and bad memories that had happened in 2014 and may all the memories became our precious life experiences and guide for us to do our best in the future.
So back to my post today, I would like to introduce a new palette by Elf Studio; Beauty Book for Smoky Look.


This palette consist of 6 eyeshadow that are 3 colors for day look and 3 colors for night look. One eye primer, one pencil liner and a applicator. Not to forget a mirror.
For the day look, this palette offers a purple smokey eyes, which it is very common and easy to do. It does not give any glitter colors as all the colors are not too matte. It consist 3 colors of eye shadow that are :
Light cream color as the Day highlight (to make highlights at our crease and to pop up our eyes)
Purple as Day Base ( this is to color our eye lid, as it has the purple color. This color does not give too much effect on the eyeline as it does not too pigmented)
Dark purple as the Day Contour ( this color is to create the shadow or to make the smokey effect)


Same goes with the night colors. The night color range are silver to black color. This type of color can really give the daring look for night activities.
Each palette give its own color, as the silver is for the highlights, the dark grey as the base and the black color is for the night contour.
This palette also give the instruction or guides that are needed to create the smoky look, inc case this is your first time attempting to create a smoky look. Not everyone have the talent to make a smoky eyes. If not, you will find yourself a "LEBAM" / bruise / blue eyes kinda effect to your eyes. hahahah
Here are the looks that I've trying out using this palette. I hope it's not turn out to be a LEBAM effect yah!
So this is the looks that I've made using the day palette. I just love the moderate smoky eyes that it has create to me eyes, not to bold and to blacky effect of purple smokey.
The night look that I've created turns out to be not to dark as the instruction. I have put a lot, I mean a lots of dark color as I layered it many times already, but it's turn not to be that dark. huhuh.
But it the result is not that bad for me, as a black smoky look can be easily created using my other palette. An additional effort to replace the black contour on the elf palette. So here I presenting to you the look for night time.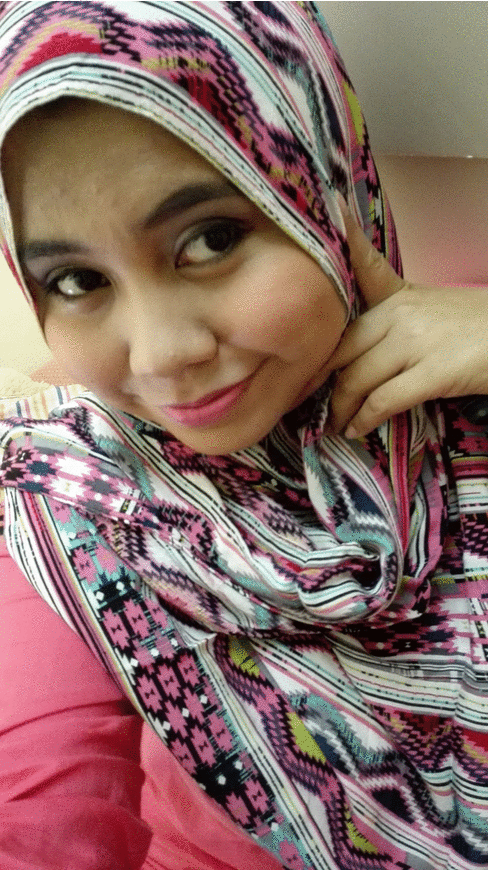 The silver base turns to be a purple color as I contour it with the night contour palette. But overall, this eye makeup can easily match to many of my clothing as majority my clothing are in pinkish color. Purple and pink can match easily right?
For those who doesn't know the used of eye primer, let me explain a little bit about it. An eye primer is used to sustain the eyeshadow that we already apply to our eyes on a day long. For certain eyeshadw, it tends to melts, of to dry or even to fade away after a long day usage. Therefor, an eye primer is a must for those who loves to used eyesahdow for working or class so, you can have a perfect eyeshadow for all day long. Besides, it can really pop up your eyelid's color if you have a dark color eye lid.
p/s : Apply eye primer first before applying your eyeshadow.
About the eye pencil, it helps me in lining my tight lines (dalam mata bahagian atas) as it is easy to draw using a pencil liner compare to gel and liquid liner. But the color for the pencil does not gives too much black compare to other brand pencil liner.
So far, I am quite satisfy with the eyesahdows looks that I've been working with while using this makeup Booklet by Elf Studio and for you out there who wanna look more on Elf studios makeup items, just go to Supermodel Secret's Website because they have a whole makeup sets by Elf Studio. As this brand is hard to find elsewhere.
Pros : 1. I do like the packaging of the Booklet, its look like a book and its really light ad easy to bring. 2. It have a complete sets for eye makeup, no need for me to buy another eye pencil or eye primer.
3. one booklet for two or more eyeshadow style, So worth it!
Cons:1. The eyeshadow palette is not that matte and they don't have too much shine in their palette.
Where to get this?
*Supermodel's Secrets Beauty Store"
SS Gallery: 1st Floor, 41A, Jalan SS 15/4B, Subang Jaya
Instagram: @supermodels_secrets
Facebook:
http://www.facebook.com/Supermodel2
Haa, If you do have this by Elf Studio, don't hesitate to share your picture to me by uploading instagram with
#supermodel2u #supermodelssecrets #makeup4naomie. I would really love to see your eyeshadow.
Till then,
Love