Movie Review: Northmen A Viking Saga
9:08 PTG
Bismillah
Assalamua'laikum.
Hello everyone, Praise to our Creator that is giving us the chance to live in this world again. Alhamdulillah, Syukur.
Today I'm gonna write a movie review on Northmen: A Viking Saga. Recently, I was invited to watch this movie with one friend at GSC Mid Valley, thanks a lot to KLIPS Malaysia for giving me these free tickets to watch this great epic movie.
Ok let's start. Firstly, all of you must watch this movie trailer.
Done watching?
Orite, let me ask all of you, did you get what is this movie is all about? The first thing I remember about this movie is the fighting scenes with a girl in the middle. And then, I didn't get what it is about. So, this is why, you should watch this movie at your nearest cinema.
Ok, let me explain a little bit about this movie. It is about a group of Northmen that was being vanquished from their homeland and were drawn off at the shore to their enemies land. Therefore, they needed to get away from that land before their enemies knew about their existence. Eventually, they were followed by the best assassins (wolfs) to hunt them because they have the king's daughter. The King wanted the assassins to bring his daughter back, but the assassins have their own plans. That is to kill the princess. For me, this movie is full of fighting and running scenes, and also tragic killing stunt.
And for those who love to watch fighting, action movie, I recommend to watch this movie, because I think this movie is quite great and it is not ending yet. It maybe has second chapter because The Vikings did not reach the place where they need to go to (Valhalah). So, more adventure coming for the next chapter I guess.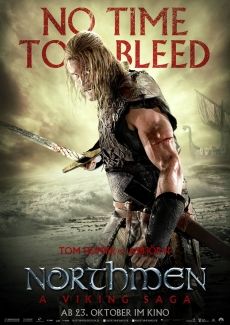 Source pictures: www.kinogallery.com
Do find your tickets to the nearest cinema to watch Northmen: A Viking Saga. I give this movie 7/10 star!
Stay tune for more updates from me.
Salam